WPFW To Particpate In documenta 14 Festival, Every Time A Ear di Soun - 8/8 to 8/27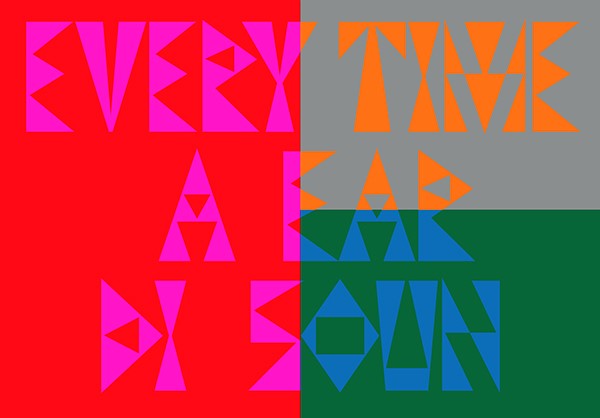 WPFW is excited to announce that it will be a part of the radio portion of the documenta 14 Festival, Every Time A Ear di Soun. WPFW is the only US station chosen to participate in this prestigious festival, joining stations from Brasil, Indonesia, Lebanon, Greece, Germany, and Cameroon. This special programming will broadcast from August 8-27, and will be relayed to the other stations worldwide. It will also include a mix of sound commissions, discussions from the Festival sites in Kasel, Germany and Athens, Greece, as well as archived programming from the aforementioned stations. More information is available at
http://www.documenta14.de/en/public-radio/
.
Every Time A Ear di Soun is a documenta 14 radio program in collaboration with Deutschlandfunk Kultur that explores sonority and auditory phenomena such as voice, sound, music, and speech as mediums for writing counterhegemonic histories. Every Time A Ear di Soun reflects on how the sonic impacts subjectivities and spaces, especially through the medium of radio. For the duration of documenta 14, nine radio stations in Greece, Cameroon, Colombia, Lebanon, Brazil, Indonesia, the United States, and Germany will constitute a worldwide art exhibition on air. The radio program live streams on FM in Kassel, online from the documenta 14 website, and on shortwave around the world. The programs punctuates each station's usual programming in their local language with art pieces for radio commissioned by documenta 14, archival material, and broadcast selections from documenta 14's public programs for four hours daily. Every Time A Ear di Soun is also accompanied by live acts addressing issues related to the phenomenology of the sonorous, the sonic as medium for historical narration, Frantz Fanon's concept of radio as medium of resistance, Rudolf Arnheim's concept of the imagery of the ear and more.
The project, which draws its title from Mutabaruka's dub poetry, takes its cue from the privileging of visual culture over auditory knowledge in most Western cultures. Greek philosophical thought in particular often reduces experience primarily to the visual, building its epistemology of historiography on the act of visual witnessing (autopsia) and considering the act of seeing as the principal source of knowing. In cultures with a so-called oral tradition, histories transmitted through narration freely assume the forms of both identifiable and nonidentifiable vocal utterances, speech, sound, and music. Here, sonority is fundamental and functions outside a visual and written logic, goes beyond it, and can neither be grasped by nor fully understood through it. When auditory experiences are shared, histories too are shared, and not only from mouth to ear: they are perceived by and encoded in the body through the physicality of sound waves and passed on from one generation to another. Because, as pointed out by Jean-Luc Nancy, if the visual is generally mimetic, the sonorous is tendentially methexic; that is, it has to do with participation, sharing, or contagion. It is this ability for auditory phenomena to instigate participatory moments and create spaces of exchange, and their ability to infect others, that makes the medium especially appropriate for transmitting histories beyond words. Every Time A Ear di Soun also explores the possibility of understanding orality and embodiment through auditory phenomena as a means of sharing knowledge and archiving memory in/on a moving, vulnerable body that exists in a specific time and space. The project deliberates on how sound creates and accommodates psychic and physical spaces, and how, through sound, a synchronicity emerges and reigns between bodies, places, spaces, and histories. At the same time, it attempts to give space to alternative narrations, as James Baldwin stated, not only "to redeem a history unwritten and despised, but to checkmate the European notion of the world. For until this hour, when we speak of history, we are speaking only of how Europe saw—and sees—the world" ("Of the Sorrow Songs: The Cross of Redemption," 1979).
In African and African diasporic cultures, Esiaba Irobi has written, the body "functions as a somatogenic instrument as well as a site of multiple discourses which absorbs and replays, like music recorded on vinyl, epistemologies of faith and power grooved into it by history" ("The Philosophy of the Sea: History, Economics and Reason in the Caribbean Basin," 2006). The analogy of music on vinyl is in no way accidental, as the expression of any auditory phenomena gets encrypted not only in memory but also in the body; and through reiterations in performances of the "quotidian," in dance and other rituals, the past is conveyed to the present and catapulted into the future. The transition and interconnections between vocal utterances, speeches, sounds, and music and performativity and an embodied experience within space and place is the curatorial node on which Every Time A Ear di Soun focuses.
While eight radio stations in the program are existing structures, the German iteration is a new station in Berlin, starting from scratch—SAVVY Funk. For SAVVY Funk, artists invited by documenta 14 take over twenty-four hours of programming, including news, weather, and other sections such as Unpacking Sonic Migrations, Listen to the Other–disEmbodied Voices–Hybridized Techno, Saout Africa(s), and Piratensender (Pirate station). Participating artists collaborate with students from the Class for Experimental Radio at Bauhaus University Weimar, directed by Professors Nathalie Singer and Martin Hirsch, to prepare and operate the radio program. Singer and her team will also contribute to a reading and listening room at SAVVY Contemporary, Berlin, where visitors can experience and reflect on radio in the making.
Every Time A Ear di Soun is a collaboration between documenta 14 and Deutschlandfunk Kultur.
Curator: Bonaventure Soh Bejeng Ndikung
Co-curator: Marcus Gammel
Team: Tina Klatte, Maximilian Netter, Elena Agudio
Keep listening to your Jazz & Justice Radio Station-- WPFW 89.3 FM for additional information.