Programmer Profile - Von Martin, host of Caribbeana - Saturdays 6-9pm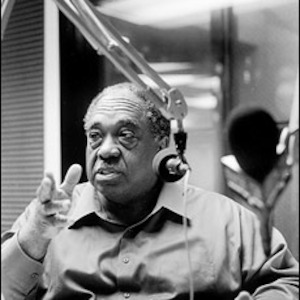 Vonulrick "Von" Martin has been described by his Caribbean colleagues as "another of the Caribbean's finest exports to the broadcasting world … and his knowledge of world affairs and first-hand familiarity with the Caribbean and Latin America made him a special asset wherever he served."
Von is celebrating 45 years as the creator and host of
Caribbeana
, a treasure trove of distinctly regional fare that has archived pivotal moments in Caribbean culture and history here at WPFW. Throughout a long and distinguished career in radio, one of WPFW's first broadcasters currently spends his time researching and presenting
Caribbeana
and providing training, entertainment and research services through
Caribbeana Communications Incorporated (CCI)
. He is 79 years old and married to his wife of 54 years, Brenda. He has two successful children; Rick who worked with NBC and CNN and currently is the Director of Communications for Douglas County, Georgia, and Vonetta, who is a program manager for the State of Maryland in Human Services. He also has two granddaughters, Natalie and Madeline.
Excerpts from a recent interview are presented below so our listeners can learn more about his career, his talent and professionalism, and what makes him a broadcasting gem for our region.
Q: You presented the first sound whilst practicing in WPFW's studio then located at 1030 – 15th St. NW Washington DC. This was the very first broadcast on WPFW.
Von: "We were practicing our first broadcast, learning the board, learning the equipment, we had no engineers, and I was playing a Calypso record by a group from Trinidad called Kalyan, the song was Disco Reggae. Unknown to me, Sunny Pietrafesa, the station engineer was on-site working at the transmitter, which was shared with WAMU. Robert Frazier, the station's operations director came to me and said, "Von, I need the board." Immediately I moved to stop the record and he said "No, leave it." Just then a volunteer, Jude Franco, called the station to say "We are on the air!" Shortly thereafter, Program Director Denise Oliver called the station and demanded Robert switch to the planned program as the first trial broadcast was supposed to be a prerecorded tape which began with Duke Ellington's A Train. The situation corrected, Denise called me to apologize and to say that was not supposed to happen!"
As far as being the first broadcast on WPFW 45 years ago and the significance of it Von said he never really thought about it as something special. What is important is that he wanted people to know more about this culture, these people, Caribbean people, for they played jazz too, and that we are all together in this world. "We need to know more about each other, that's what is special." His take on his programming is that he wants to educate, entertain and enlighten his audience on Caribbean culture and what it means to not only his home, but also for fans here and around the world.
Q: How has the station changed over the years?
Von: "I have seen 17 general managers over the years, and I think someone should write a book about WPFW and its history." While there are the many standard changes that have occurred, like new facilities, equipment, more staff and professional studios, the programs and the programmers have been consistent and Von has benefited from the talent and guests from other programmers whose shows come before him, most notably blues music and the Bill 'Hoodie Blues' Harris show. "I learned so much about broadcasting and about the blues from Bill and was fortunate to meet some of his guests like the legendary Kenny Burrell and BB King."
Q: What's it like to have one of the longest running shows in the DC radio market?
Von: He was surprised by this question as he hadn't realized the significance of being a broadcaster for so long. "When I started as a programmer, I wasn't sure how to do it, so I spoke with a colleague, Felix Grant of WMAL. Felix used to play Jazz on his show. I sat in with Felix one night whilst he broadcast, and Felix said he didn't rely on the resources of the station and to do what he does and bring your own music to play." So, by utilizing his own collection of over 300,000 records, cassettes, and recordings, tapping various artists he knows and benefitting from music received by record producers, that is how he built his program to what it is today.
Q: What inspired you to get into radio and broadcasting?
Von: "As a child growing up in Trinidad and Tobago, I was a big radio fan. I lived and ate radio; loved the music, loved the jocks and what they were doing and the impact they had on me was immeasurable. We didn't have television back then, but radio programming was diverse; people like Bob Gittens, Trevor MacDonald and I enjoyed Orson Welles. He had a deep baritone voice. Also, I loved the Western radio shows, cowboys and Indians and such things."
Von tried to get into radio but was denied as there were class/culture issues at that time in Trinidad, so he never got a chance. "When I emigrated to the US in 1967, I was living a normal life and I started out as a cab driver with Blue Bird Cab company, Yellow 88 was my number." He went to college and then worked in the computer field for Blue Cross/Blue Shield and then at American University in their computer room. He promoted his culture where and when he could, and subsequently was asked to do an interview for publication. The interviewer said I had a great radio voice and she encouraged me to give it a try. "So, I did."
He tells of an instance when the Jamaican Ambassador, Alfred Rattray requested his assistance to help give them some notoriety back home in the Caribbean islands. This led to an 18-year broadcasting position in the OAS, Organization of American States, Department of Public Information. He later did a stint at NPR working on their Horizons Services program. These jobs provided him income to travel and become a well-known entity about Caribbean culture. He wanted to do more so he applied for and received a grant from the National Endowment of the Arts which allowed him to produce seven one-hour shows entitled Caribbeana, History in Sound. That also boosted his career.
Q: What's the easiest thing about being a programmer? What's the hardest thing?
Von: "I love what I do and love sharing with my audience, but first I had to find my audience, which was not necessarily native islanders but also residents who loved the music and the culture. I programmed my broadcasts for them, and they responded." The hardest thing, if it can be said of this passion, is designing the program so that it's appreciated. "I need to identify with what I'm doing and pull it together, which I've done 50 times a year for the past 45 years. Seems like a lot, but it's a part of me and I never thought it was really that difficult - I loved it."
Von's ambition was to be the voice of the region, here, at home and at other places, which he has achieved. "Through my travels home at home and abroad and from the interviews I've conducted over the years, I am pretty well connected and that provides great access to people." He has met and interviewed several heads of state and Prime Ministers, some who have become friends. Also, from books he has published or is working on, that also serves him well in his programming. "It's all about making connections and putting them to use."
Q: I understand you have had some famous fans and followers.
Von: "One time at a Kennedy Centre concert, I was introduced by Jamaica's Ambassador to General Colin Powell who, when he realized who I was, started gushing about how much he loved my program." General Powell said that on Saturday nights he and his aide would regularly tune in to WPFW FM radio and the program was a part of their lives. "So, he was a regular listener!" He even made sizeable contributions to WPFW during our pledge drives. "Following that and through numerous interviews on my program and our love of all things Caribbean, we became very close." At his funeral, Richard Armitage, Powell's deputy secretary of state during the George H.W. Bush administration, mentioned in a eulogy how much WPFW and the Caribbeana show meant to both. I have had the good fortune of interviewing several Caribbean Heads of State including the great Jamaican Prime Minister Michael Manley. I have also interviewed Maurice Bishop, Prime Minister of Grenada, as well as Jean Bertrand Aristide of Haiti.
There was one experience he will not ever forget. "In the early days whilst I was rehearsing a show one afternoon, a woman popped into the studio and asked me a question. I returned asking her who she was. She looked at me and lit into a tirade on me, as though I was supposed to know who she was." He pushed right back at her. He said "Lady, I am a cat who does a weekly Caribbean radio show and so I have no clue about who and what you are talking about." She asked me "Do you know the Mighty Sparrow?" He lit up, emphatically saying "Yes!" She then said he is a friend of mine and he immediately cooled down. She said, "My name is Betty Carter." Of course, he knew the name and subsequently, he felt awful about the slight, but in the end, it all turned out alright. "She invited me to her show that night at Fort Dupont Park and during her performance she called me out which got me a round of applause from the audience!"
"I have also subsequently met and interviewed Roberta Flack as well as reggae singer Peter Tosh among other notable figures."
Q: Do you play a musical instrument?
Von: "No; I never played a musical instrument. As a young boy I was being taught the piano but that ended abruptly when my Uncle Paul, who paid for the lessons, passed. I am however a big fan of the steel pan and did a lot of research on the instrument then wrote a book about it Voices of Pan Pioneers of Trinidad and Tobago. Other books he's working on include an autobiography titled, Living the Dream and another Word Masters of Island Comedy.
Q: What would you like to tell your listeners – what's the message they should be receiving now?
Von: "I want them to understand the region I come from and the people. There is a lot of divisiveness in our culture and in the black community and I think a lot of it has to do with misunderstanding each other. We are all the same root, Africa, the Caribbean, Latin America and the United States of America. We came from the same root. We are neighbors and simply don't know enough about one another. We need a common place, and we need to not separate, but come together. I think this program accomplishes some of that."
And to the loyal listeners, he asks that they keep supporting WPFW and to those who love the program but don't support it, he asks you to please reconsider. "We live and work in one of the most unique places in the world and the impact of WPFW is so strong and to be without it would be a tremendous loss. Our listeners know and understand our importance and to be able to do what I love for so long, through their support, it's a wonderful place to be. I love life and give thanks to God for all my blessings"