WPFW 89.3 Honors Omrao Brown - 7/11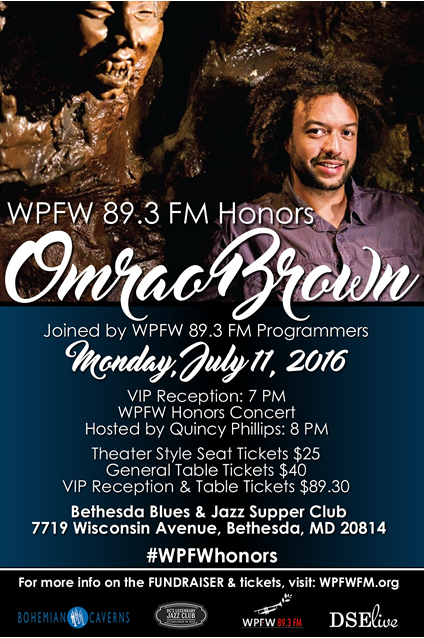 The World's Largest Jazz Programming Radio Station, WPFW 89.3 FM, Announces Fundraising Event Honoring Omrao Brown of Bohemian Caverns
The arts and entertainment community will share the stage at Bethesda Blues & Jazz Supper Club for a commemorative night of WPFW 89.3 FM fundraising, and special guest performances honoring Omrao Brown for a decade of service at the historic Bohemian Caverns.
The event will be held at Bethesda Blues & Jazz Supper Club with a VIP Reception held at 7PM, and the WPFW Honors Concert to begin at 8PM. This special occasion will be hosted by Quincy Phillips and feature a celebratory reunion of jazz musicians, performance artists, vocalists and deejays who graced the stage of Bohemian Caverns and performed for WPFW programming. Attendees will enjoy performances by Marcus Anderson, Ben Williams, Christie Dashiell, Nasar Abadey, Akua Allrich, Dwayne Adell, Wes Felton, Herman Burney, Fred Foss, Frederico Pena, Davey Yarborough, Kimberly Washington and DJ YZO, Heidi Martin, Tarus Mateen, Dehejia Maat, Herman Burney, Kiyem Ade with more stellar artists to be announced.
Theater Style Seat Tickets: $25
General Table Tickets: $40
VIP Reception & Table Tickets: $89.30
To purchase tickets click the flyer above or CLICK HERE.
WHEN
Monday, July 11, 2016 from 7:00 PM to 11:30 PM (EDT)
WHERE
Bethesda Blues & Jazz Supper Club - 7719 Wisconsin Avenue, Bethesda, MD 20814
#WPFWhonors